SGCMF©10002
CERTIFICATION:
MEDICAL
FILE
COMPLIANCE
SGCMF©10002
System.
In
accordance
with
the
process
and
procedure
system
requirements
of
the
SGCMF©10002
Conformity
Assessment
of
physicians
archives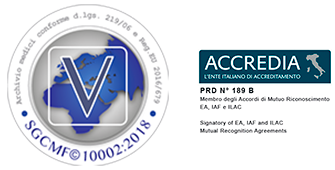 The SGCMF©10002 certification is voluntary, and is therefore intended for all of those pharmaceutical organizations that, in relation to the transposition of the regulations above mentioned have the necessity to have clear and defined regulations in order to secure the internal processes for the correct management of the physicians archives.

SGCMF©10002 is a technical discipline approved by the Ministry of Economic Development as an innovative system, that details the necessary requirements for the correct, safe and compliant management of the personal data of the persons authorized to prescribe pharmaceutical drugs, collected during the Advertising activity as indicated in the European Directive 2001/83/CE (implemented in Italy by the Legislative Decree 219/06), read in conjunction with Directive 95/46/CE, but already compatible with the new European Regulation for the management of personal data.
Destinatari
LE ORGANIZZAZIONI FARMACEUTICHE: Our verifications have the objective of the precise control of the System, Processes, DataBase and Procedures. These are relative in the field of the management of personal data and have as a reference a worldwide-recognized Standard, mandatory and standard regulations on national and international levels.
The certified pharmaceutical company better controls the internal strategic variables, streamlines the processes and operates in accordance with the standards of the law.
Contest
The procedural responsibilities for any pharmaceutical company, are the following:
Verification of the names present in the personal data archive, of the participants visited by the pharmaceutical company's representative so that they refer only to the medical staff.
Verification that the personal data used in promotion activities is reduced to a minimum focusing on the use of anonymous data.
Verification of the procedure used to collect personal data.
Verification of quality principles, accuracy, pertinence, non-excess, integrity of data collected and maintained.
Verification of the ratio of uniqueness of the data contained in the physician's database.
Verification of correct policy of the information's risk management system.
Le certificazioni costituiscono una garanzia e atto di diligenza verso le parti interessate dell'adozione volontaria di un sistema di analisi e controllo dei principi e delle norme di riferimento.
Comunicato stampa congiunto Garante-Accredia


Gli Stati membri, le autorità di controllo, il comitato e la Commissione incoraggiano, in particolare a livello di Unione, l'istituzione di meccanismi di certificazione della protezione dei dati nonché di sigilli e marchi di protezione dei dati allo scopo di dimostrare la conformità al presente regolamento dei trattamenti effettuati dai titolari del trattamento e dai responsabili del trattamento. Sono tenute in considerazione le esigenze specifiche delle micro, piccole e medie imprese
EU-GDPR