ISDP©10003:2015
MODULES
1
&
2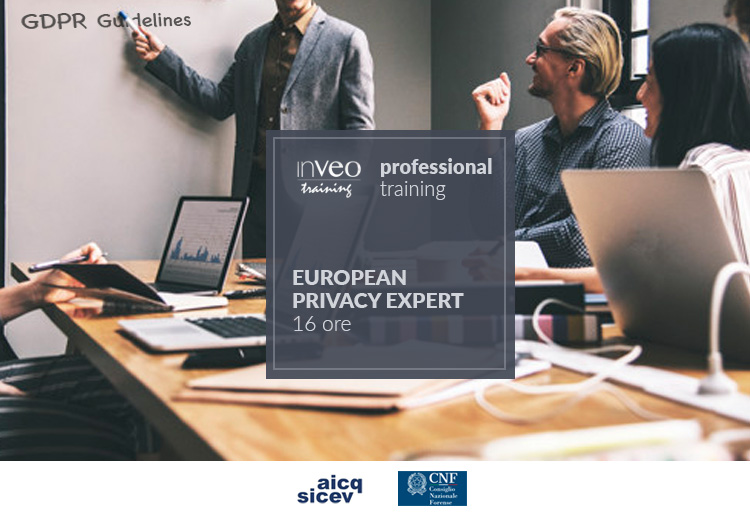 16 hour course + progress test
OBJECTIVE
Protecting fundamental rights and freedoms of the interested parties, as well as the general responsibility attributed to data controllers and data processors, requires an appropriate assessment and understanding of the control processes involved and a prudent assessment of risk. All this will have a definite impact on companies in every product sector and companies will have until May 2018 to verify their positions regarding data protection. The roles of consultants, internal auditors and DPOs therefore take on primary importance to supporting data controllers in establishing whether adequate and effective measures have been put into place in order to demonstrate that processing activities are in compliance with the regulation.
Designed to respond to the new rules which become operational in 2018, the ISDP©10003:2015 scheme is voluntary and applicable to any type of organisation. It specifies the requirements for proper, secure management, as well as the compliance of the management, of a natural person's personal data with regard to the processing of personal data and the free circulation of the same.
The scheme provides the principles and lines of control for a complete compliance assessment of the organisation's internal processes regarding protection of personal data with particular reference to proper risk management.
The 16 hour course is structured to provide all the elements of cultural and technical knowledge needed by privacy consultants and internal auditors, including every company operator, who wants to acquire the right skills to be able to work in compliance with the ISDP©10003:2015 scheme by adopting appropriate guarantees regarding compliance to regulations on processing personal data.
PROGRAMME
The European Regulation, EU GDPR 2016/679
General processing principles (articles 5 – 11)
Data Controllers and Data Processors
Joint Data Controllers
Privacy by design & by default
Data Mapping
Risk assessment
Analytical assessment tools
Data breaches
Impact Assessment on data protection (PIAs)
Certification mechanisms
Codes of conduct
Transferring data overseas
Compensation and penalties
ISDP guidelines


TARGET AUDIENCE
Privacy Consultants
Internal Auditors
DPOs
Legal teams
HR Managers
REQUIREMENTS
Basic knowledge of Italian Legislative Decree 196/2003
Basic knowledge of EU Regulation 2016/679
TEACHING MATERIAL
EU Regulation GDPR 2016/679
ISDP guidelines
ISDP©10003:2015 scheme
Membership to the private LinkedIn group, 'Osservatorio Privacy EU GDPR'
Slides shown during the course
TEACHERS
Teachers are all professionals who have been qualified by InVeo srl
PROGRESS TEST
Written, multiple choice test*
* If the candidate fails to pass the test, it can be retaken after 30 days, online.
COURSE CREDITS

6 "Consiglio Nazionale Forense" credits
---