SGCMF©10002:2013
LEVEL
1
|
AUDITOR
DATABASE
&
PRIVACY
MANAGEMENT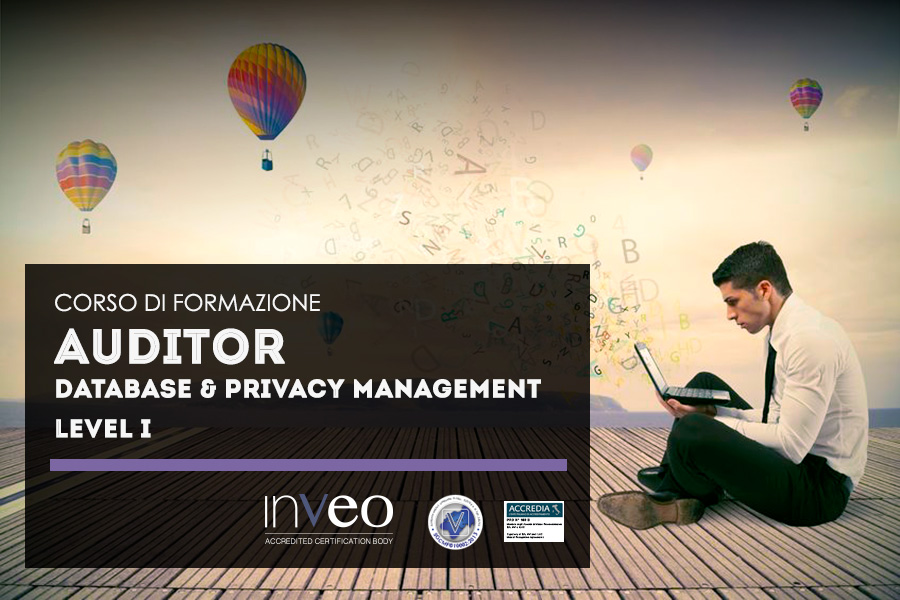 8 hour course + progress test
THE TRAINING COURSE
Internal Auditing has assumed a role of primary importance in the proper management of Corporate Governance and Compliance rules, including binding ones.
Monitoring corporate processes guarantees their proper operation and stimulates their improvement.
The course, which takes into consideration the set of issues tied to the proper management of those process that regulate the creation, management and compliance of medical archives, provides the tools necessary to carry out the internal audit activity, guaranteeing an efficient control system.
The SGCMF©10002:2013 standard provides the requirements of a system to manage compliance of personal data of subjects authorised to prescribe drugs and which is collected during advertising activities, as indicated in the combined provisions of Italian Legislative Decree 219/2006, Title VIII (DIRECTIVE 2001/83/EC) and Italian Legislative Decree 196/2003, Part I (DIRECTIVE 1995/46/EC); the objective of the policy is the protection, the availability and the precision of the information collected and managed.
New aspects introduced by the European Regulation on Data Protection will also be analysed.
OBJECTIVES
The course aims to provide the knowledge needed to carry out an internal audit – using the correct view of the regulations on data protection – of Database Management Systems that contain information on medical and hospital appointments.
The skills needed for a correct assessment of risk relative to processing information, to analysing recurrent non-conformities and to the applicable security controls, will be taught.
TARGET AUDIENCE
Compliance/Legal Managers
Data Protection Officers
Data Processors of personal data
CRM Managers/SFE Managers
MINIMUM REQUIREMENTS
Basic knowledge of Italian Legislative Decree 196/2003 and Italian Legislative Decree 219/2006
REGULATIONS OF REFERENCE
SGCMF 10002:2013
Italian Legislative Decree 196/2003
Italian Legislative Decree 219/2006
UNI CEI EN ISO/IEC 17065
UNI EN ISO 19011_2012
UNI EN ISO 9001_2008
TEACHING
The course is given by teachers with specific experience in management systems, processes and procedures related to processing data held in corporate databases in compliance with the statutory requirements of existing Data Protection regulations
TEACHING MATERIAL
Teaching notebook containing:
The Authority's provisions affecting the area of reference (pharma)
Slides shown during the course
THE PROGRAMME
9:00-13:00 | MODULE 1
• Course objectives
• SGCMF©10002:2013 – PRD UNI EN ISO/IEC 17065:2012 certification scheme
• Processing data:
• Fundamental principles of processing data as per article 11 of Italian Legislative Decree 196/2003
• Improper processing of personal data: damage as per article 15 and the inversion of the burden of proof
• Processing data as part of the detailing activity
• The Internal Auditor's task: aims and functions
• Conducting an audit

13:00: Light Lunch

14:00-17:30 | MODULE 2
• Practical application of the principles and case histories
1. The Authority's provisions
2. Penalties
3. Assessment of system audits in companies
4. Case studies by individual area
     • Compliance/Legal
     • Sales Force effectiveness/CRM
     • IT
     • Training
     • Conferences/Trials

17:30 Final test
18:00 Close
TARGET AUDIENCE
Privacy Consultants
Internal Auditors
DPOs
Legal teams
HR Managers
REQUIREMENTS
Basic knowledge of Italian Legislative Decree 196/2003
Basic knowledge of EU Regulation 2016/679
TEACHING MATERIAL
EU Regulation GDPR 2016/679
ISDP guidelines
ISDP©10003:2015 scheme
Membership to the private LinkedIn group, 'Osservatorio Privacy EU GDPR'
Slides shown during the course
TEACHERS
Teachers are all professionals who have been qualified by InVeo srl
PROGRESS TEST
Written, multiple choice test*
* If the candidate fails to pass the test, it can be retaken after 30 days, online.