SGCMF©10002:2013
LEVELS
2-3
|
AUDITOR,
DATABASE
&
PRIVACY
MANAGEMENT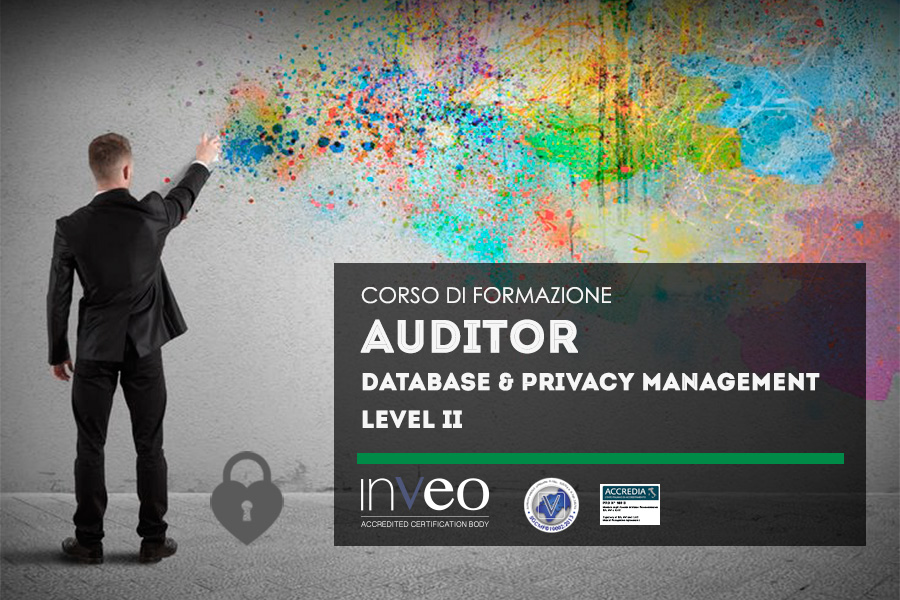 16 hour course + progress test
THE TRAINING COURSE
The objective of the SGCMF©10002:2013 standard is the protection, the availability and the assessment of the precision of the personal information of subjects authorised to prescribe drugs and which is collected and managed for corporate uses linked to marketing drugs.
Carrying out a proper and exhaustive internal auditing activity allows organisations to establish effective monitoring of corporate processes in order to maintain the control of privacy compliance in relation to the management of medical archives.
The delicate transition period linked to approval of the European regulation (EU GDPR 2016/679) requires an appropriate assessment of the implementation of internal processes that can enable companies to be fully compliant and have efficient control sustems by 25 May, 2018.
OBJECTIVES
The course aims to study in depth the techniques and logic for an internal audit – using the correct view of the regulations on data protection – of Database Management Systems that contain information on medical and hospital appointments, providing the skills needed for a correct assessment of risk relative to processing information.
The objective of the 2nd level of the Auditor, Database & Privacy Management course is to analyse the main sector critical aspects, starting with a study of real cases and the most important cases as well as studying the most recurrent non-conformities and providing a complete understanding of the techniques of internal auditing.
The course will also allow operators to learn skills useful in managing the transition from the current regulation to the application of EU Regulation GDPR 2016/679 with a particular focus on the principle of the Accountability of the Data Controller, who is held to demonstrate that tasks are carried out using proper, tangible, robust, and transparent methods that respect the individual him/herself and his/her dignity.
TARGET AUDIENCE
Compliance/Legal Managers
Data Protection Officers
Data Processors of personal data
CRM Managers/SFE Managers
MINIMUM REQUIREMENTS
Participation on the Auditor, Database & Privacy Management course – Level 1
Basic knowledge of Italian Legislative Decree 196/2003 and Italian Legislative Decree 219/2006
REGULATIONS OF REFERENCE
SGCMF 10002:2013
Italian Legislative Decree 196/2003
Italian Legislative Decree 219/2006
UNI CEI EN ISO/IEC 17065
UNI EN ISO 19011_2012
UNI EN ISO 9001_2008
TEACHING
The course is given by teachers with specific experience in management systems, processes and procedures related to processing data held in corporate databases in compliance with the statutory requirements of existing Data Protection regulations
TEACHING MATERIAL
Teaching notebook containing:
The Authority's provisions affecting the area of reference (pharma)
Slides shown during the course
MODULE
2
THE PROGRAMME
9:00-9:30 – Registration and Coffee
9:30-13:00
The Internal Auditor's task: where we left off and the objectives for module 2
The new European Regulation coming into force
Transition from the provisions of Italian Legislative Decree 196/2003 to those of EU Regulation 2016/679
SGCMF©10002:2013 certification scheme
Database audit process: operational checks

Data precision and updates
Uniqueness
Relevance and non-excessiveness
Minimisation
13:00: Light Lunch

14:00-18:00
System audit on corporate policies and procedures

Appendix A of SGCMF©10002:2013 scheme
The Data Controller's responsibilities and designing processing
Managing medical archives for detailing activities
Processing security measures
Requests for access, correction and deletion
Training
Guidelines for conducting a Management System Audit (UNI EN ISO 19011)

18:00 Close
MODULE
3
THE PROGRAMME
9:00-9:30 – Registration and Coffee
9:30-13:00
The certification process in companies
Audit assessments: level of Non-Conformity
Data Non-Conformity
Minimising collection
Privacy by default and by design
Management awareness
Training and education of employees
Intellectual property and ownership
Dealings with third parties
Assessment of the risks of processing data
Impact assessment for profiling
Procedures to issue information notices and collect consent
Right to know – Need to reply
Notification and transfer of data overseas
Processing security measures
13:00: Light Lunch
14:00-16:30
Corrective actions and practical applications
Case studies 
16:30-17:30
Final Test (multiple choice answers and practical cases)
18:00 Close